Based on an article that first appeared at
A recent survey of 1,000 people found that 45% of them named moving as the number one most stressful life event. It's undoubtedly one of the most disruptive life changes, affecting every member of the family—including pets. Cats are especially averse to change, meaning they'll feel extra stress and can create complications when moving day arrives. When the time comes to start packing, be proactive and take steps early to help your cat with the transition. Keeping things consistent and comfortable for them throughout the process will help you avoid unpleasant messes, aggression, and potential escape.
Before Moving With Your Cats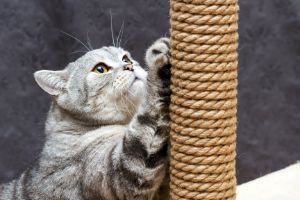 1. Maintain Their Routine
As packing materials arrive in the home, boxes start stacking up, and the familiar home environment becomes disrupted, try to maintain as regular a routine as possible for your cat.
Maintain your cat's routine during a move in the following ways:
Avoid moving furniture until the moving day
Keep their litter box in its usual spot
Maintain their regular feeding schedule
If they have a cat tree or tower, avoid moving it—a change to their usual lounging spots will create stress
Be consistent with their usual playtime, cuddle time, and bedtime
Be aware of the signs of stress if your cat notices changes despite maintaining their routine. Hill's Pet Nutrition identifies anxiety symptoms in cats and how you can help them.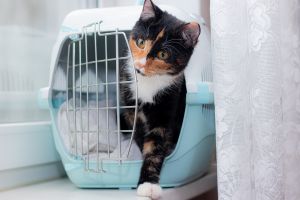 2. Introduce a Cat Carrier
A cat carrier is essential for a move, as it provides your cat with a safe space on moving day when movers are in and out of your home with boxes and furniture. A free-roaming cat will likely get caught up in the chaos and be under people's feet carrying heavy items. Introduce the cat carrier a few weeks before your move, and help them understand that it's a cozy place for them to retreat. Make sure the carrier is very clean and free of unpleasant smells. Keep it in a safe, quiet corner of the home and place their favorite blanket and toys inside. Allow them to freely enter and exit the cat carrier in the days leading up to your move. If you see them enter the carrier on their own, reward them with a treat or praise. You can also use a feline pheromone spray inside the carrier to alleviate stress. The goal is for your cat to seek out their carrier on their own when moving day arrives and the chaos begins.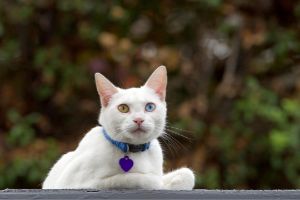 3. Update Their Information
An anxious and disrupted cat might attempt to flee because they don't understand what's happening. Ensure your cat wears an ID on its collar and has a microchip. Confirm your new address and phone number are on file with the company holding their microchip registration. If your cat escapes, they're unlikely to find their way back to the new home. Learn more about microchipping from the AVMA.
After Moving Into a New Place With Your Cat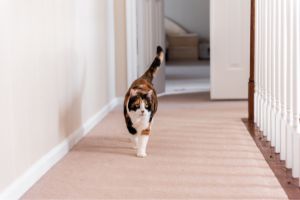 4. Give Your Cat a Slow Introduction
When you first arrive at your new home, keep your cat in their carrier until you can cat-proof the house. This process should include keeping all doors and windows closed and hiding electrical cords. Begin by introducing your cat to one room at a time, giving them plenty of time to become familiar and comfortable with the layout and furniture. It's helpful to introduce the living room first, where they're likely to realize it's familiar furniture they're rediscovering. Ideally, this will get them to acclimate more quickly. Keep them in this first room until the move is complete, so they're safely out of the way.
Be sure your cat's introductory room in the new home includes:
Litter box
Food and water
Toys
Bed
If your cat seems nervous by the end of the first day, keep them in that first room for another day until they seem less anxious. Once their nerves have calmed, introduce them to the adjoining room and let them explore. Continue this routine one room at a time until they're familiar with the entire home.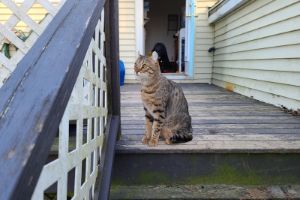 5. Be Extra Cautious with Outdoor Cats
It's common for outdoor cats to attempt to find their old home after moving. For this reason, you should keep your outdoor cats inside the new home for the first couple of weeks. This safety measure will give them time to bond with their new space and make them less likely to search for their old home once they're let outside. Create positive associations with your new home before allowing them out, such as extra treats, more playtime, and new toys. Once they venture outside, keep a close eye on your cat and start in small increments of time, building up slowly to their usual outdoor time.
When it comes to moving, it's easy to get caught up in the chaos of cleaning out, packing, and setting up your new home. Take the time to pause, realize your cat is also going through a significant transition, and take the necessary steps to ensure their safety and comfort. Contact us if you're looking for further guidance on moving with your kitty!