Why is it important to start good puppy care on day one?
Committing to good puppy care as early as possible sets your puppy up for success! Puppies are particularly vulnerable to illnesses & potential diseases due to their immune system being so new. By having your puppy examined by a veterinarian and starting them on their preventative vaccines, you are giving your puppy the opportunity to thrive and live their best life possible!
How soon should I bring my puppy in to see a veterinarian for their first exam?
We recommend that your puppy come in for a veterinary exam as soon as possible. If you're planning on getting a puppy, it's even better to call and schedule an appointment ahead of time! This allows your vet to check for any congenital diseases, begin the process of deworming (puppies are more likely to have intestinal parasites, as they can be passed down from their mother), and to establish a vaccination plan. Your vet will also share further helpful resources and information to help you feel as prepared as possible for puppy parenthood!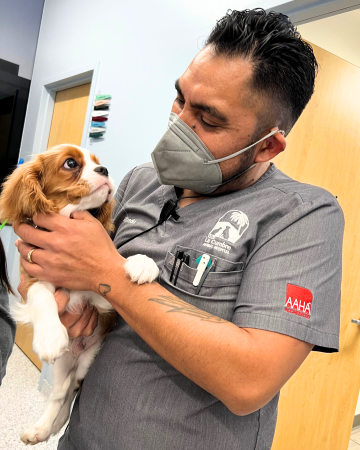 What are the most common health problems in puppies?
We most commonly see puppies with intestinal parasites, like hookworms & tapeworms. The puppy can be set up with a deworming regimen based on the parasite that's present. Puppies are also at risk for Parvovirus, an infectious and potentially deadly gastrointestinal (GI) illness in puppies and young dogs, which is spread by direct contact with an infected dog or infected feces. You'll often see that your puppy has received their first Parvo vaccine with their previous caretaker. Because a puppies immune system becomes compromised as they are weaned off of their mom and begin losing her built-in immunity, we want to make sure they receive their next Distemper-Parvo vaccine as soon as possible to keep them protected.
What are some signs and symptoms of illness in your puppy?
- Diarrhea
- Vomiting
- Not eating/Inappetance
- Swollen gums
- Excessive thirst
- Runny eyes or nose
- Trouble urinating or defecating
What are the signs of a healthy, thriving puppy?
Normal energy, appetite, water intake, and expulsions (bowel movements & urinary output) are all signs of a healthy puppy. A thriving puppy wants to spend time with it's companions by playing, cuddling, and exploring. The younger the puppy, the more often they sleep (it helps them grow!), so lots of naps aren't concerning unless your pup seems lethargic or depressed.
When should I start training my puppy?
As soon as possible! Puppies are in their primary socialization period from about 4 to 14 weeks of age - most puppies are sent home starting at 8 weeks old. This is the age when it is easiest to learn about their environment, form lasting relationships with people & other dogs, and learn about situations that they may experience as adults. These early learning experiences are vital to prevent adult behavior problems. Attending indoor classes where participating puppies have had veterinary exams and initial vaccinations provides a safe environment for this initial socialization to occur.
Some training resources we recommend in the Santa Barbara area are Perfect Puppy Academy with Anne Swann and A Better Life Dog Training with Fran Bryan.
Effective socialization after 14 weeks is also possible. So, even if your dog is beyond the optimum socialization time, we recommend training. A dog is never too old to be trained!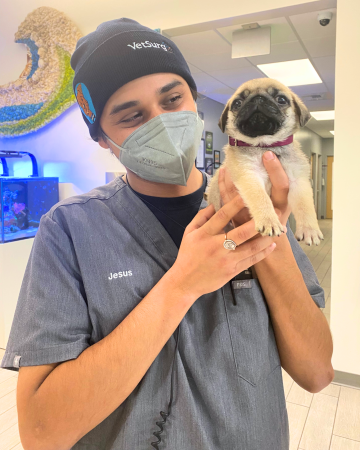 What will my vet be looking for when first examining my puppy?
At your puppy's initial appointment, your vet will do a "nose-to-tail" exam, checking your puppy's mouth, ears, eyes, etc., to make sure they're healthy and there's nothing of concern. They will listen to your puppy's heart & lungs with their stethoscope and check your puppy's internal body temperature with a thermometer. The vet will also discuss your puppy's behavior and habits with you. We will also ask that your bring along a fecal sample to your initial puppy appointment so that we can test for any intestinal parasites.